MORE INFORMATION
frequently asked questionS
When should we start?
The best time to start depends on whether or not you will practice what you learn. If you'll practice, then start as soon as you like. That way, you will have time to get more comfortable with your new moves. With lots of practice, there's a good chance you'll always remember what you learn. If you don't think you'll practice, then wait until you're pretty close to the wedding to get started. Plan to leave a week or two between your last lesson and the week of your wedding. A little time is good so you don't stress about your dance not being ready. You may be glad to have time to reschedule one or two if needed, or time for an extra lesson or two if desired. For example, if you plan to take 5 lessons, start weekly lessons 6 to 8 weeks before the big day.
What should we wear to our lessons?
Dress in whatever will make you feel best while you're dancing. Some couples get dressed up, some come straight from work, and some wear workout clothes. It can be fun to dance in clothes that make you feel attractive. I recommend women wear closed-toed shoes for their first lesson or two. For the last lesson or two, brides should bring comfortable shoes as well as closed toed heels with heights similar to the shoes they will wear at their wedding. That being said, any footwear and clothing will be fine.
Can we reschedule?
Yes. Lessons may be rescheduled upon request for any reason. Please save our number so you can give us notice conveniently should you need to reschedule.
What is your cancellation policy?
Packages, gift certificates and deposits are non-refundable and expire after one year. Any lesson cancelled within 24 hours of a scheduled appointment time will be subject to a $50 rescheduling fee. "No shows" or cancellations within one hour of appointment times will count as a full, completed lesson. If applicable, studio booking fees and/or trip fees must be paid in advance and are non-changeable, non-reschedulable, and non-refundable.
Please note you are hiring a profesional choreographer to work with you privately one a one-on-one basis, tailoring your dance and lesson plans to you specifically. I am not going through a syllabus or giving you a spot in a group class. I am scheduling my days and weeks to create your dance and rehearse it with you. I are also reserving time at your preferred location and blocking out time to book it, travel to it, and/or prepare that space for you. I appreciate your commitment to commisioning me as an artist and all the support you give me via your time, talent, and treasure!
What do you typically teach?
I teach all styles of social and ballroom dance to couples with a variety of goals. If you want to look natural, learn to lead and follow, and just need a game plan for when it's your turn to dance, just let me know and I'll get you squared away. If you want to blow everyone away, we need time to teach you choreography and for you to be able to performing it excellently. Your dance can come across as spur-of-the-moment or completely coordinated–whichever you like or somewhere in the middle. I'll be right there to figure it out with you as we go along.
What else do you teach?
I combine multiple songs and styles,  cut music, choreograph Bollywood and other dances inspired by films and music videos, choreograph Renaissance court dances and large wedding parties, and incorporate fun elements such as hip hop, break-dancing and props. I make up line dances and walking-down-the-aisle dances.
I am delighted to have colleagues in the dance field who collaborate with me when a client has a special request that is outside my range of expertise.
I do all these things and are still up for new challenges. Let us know what you're thinking!
How do we register?
Simply call me or email me your preferred days/times. I will coordinate with you to schedule your first appointment. You may also get your phone consultation scheduled via our online booking system.
Are gift certificates available?
Yes. I can email you a card to print for your gift or mail you one. Just give me a call or drop us an email. It only takes a few minutes to set up.
Can we get a choreographed dance?
Yes. I can choreograph the dance of your dreams. Of course, it takes two to tango–and that doesn't count the teacher. Be sure you make time to practice!
Our wedding is 5 days away (or less). Can you help us?
Sure, there's still time! I feel for you and will do what I can to help you. Just call us now! 713-526-1049.
We had a bad experience at another studio. How will you treat us differently?
I'll listen and customize your program to fit your needs. I've been told by clients that come to me from other studios that they were pleased with me and my ability to teach everything they wanted to learn very efficiently.
I will make sure you can learn your dance in the amount of lessons you get. I'll stay in your comfort zone unless you really want to challenge yourselves. I do not push sales; instead, I make sure you understand everything you learn each lesson, encourage practice, and check-in regularly about any difficulties and desired changes. With a little practice on your own, we can spend each lesson polishing up what you've learned and adding on.
If I want to do a choreographed dance what kind of wedding dresses should I go with?
You will want to find one that moves easily from the waist down if you are interested in having lots of eye-catching spins, dips and especially lifts. Off-the-shoulder dresses will also limit the kinds of turns you can do since you cannot lift your arms very high unless you remove the straps or tuck them in. We can still give you a lot of moves with a tight skirt and/or off-the-shoulder strap by simply working within your range of motion.
Dresses with a "sweep" at the bottom (1-2″ of dress on the floor) will limit your movement and may lead to you or others stepping on your dress not only during the dance but also during the rest of the reception. Should this occur, you may hold your skirt up in one hand like a princess.
Can I wear a strapless wedding dress when I dance?
The short answer is yes. However, it would be encouraged to make sure it is well-fitted. Keep your weight the same from the time of your final fitting so the bodice does not get loose. If you plan on doing lifts, consider getting a wrap to put around you just to make sure you do not have any mishaps.
I am a lot shorter than my fiancé; I plan on wearing heels to dance in, can I still do fun moves in my dance in heels?
Yes you can! You can select shoes to lessen the height difference when dancing. Select heels that are easiest for you to move in. We would not suggest platforms or stilettos. Instead, try to find heels with a wider base on the heel or a wedge style shoe.
If you wear heels down the aisle, be sure to wear the same heel or one of the same height for your dance. You may be tempted to go down to flats for your dance, but that will make your dress spill onto the floor and become a trip hazard all night. If you know you want to wear flats at the reception, consider hemming your skirt to the flats and letting it be an inch or two off the floor for the reception (or somewhere in between.)
Can I practice in my shoes during lessons?
Of course you can! We recommend incorporating shoes into your lessons on your second or third lesson to start getting used to them. On the first lesson probably not, so you can get accustomed to learning the steps.
If you have open-toed shoes, we'll kindly as your fiance to remove his shoes while you try yours out.  Same goes for if you are at all worried about getting your wedding shoes scuffed up. You may still bump toes while you are learning, so we do this just to be on the safe side.
Should my fiancé wear his wedding shoes to the lessons? He says they are a little tight and he wants to stretch them out.
Absolutely! The groom can bring his shoes to lesson on the second or third lesson. It is very beneficial to get practice in wearing your shoes prior to the wedding. Dancing in shoes is an acquired skill.
I think my shoes are not comfortable enough to dance in, what should I do?
You can either get some simple ballet flats or short heels to wear specifically for the dance. You can also try to put in some Dr. Scholl's into the shoes for some extra cushion and support. Remember, most of the time people cannot see your shoes under your dress so if it is not your wedding shoes that you're wearing people are not going to be looking at your feet.
Should my fiancé wear his tux jacket for the dance?
Traditionally, yes. If he does not feel he can easily lift or move his arms, he may want to consider taking it off right before the dance. It does not take away from the dance. If you have a fun dance routine, you may be able to work in taking the jacket off into your dance to add a fun element.
In reviewing client photos from the past couple years, 60% wore their jacket buttoned, 30% wore it unbuttoned, and 10% wore only their shirt and vest (no jacket.)
I already bought my dress, and its very fitted. Can I still learn dance steps even though I'm a little more restricted in my movement?
Absolutely! That is why you want to hire a professional dance choreographer and instructor. I know exactly what moves to show you that will fit even the most fitted dress. Nothing is impossible and the end goal is to show off you and your fiancé and your dress to your guests.
DJ or live band, which one is better for my wedding reception?
If you enjoy the feeling of the energy from live music and have the budget for that, pick a band. A DJ is also a great option, just make sure you read reviews and talk to friends who used a DJ at their wedding and find out who it was. Word of mouth is crucial in finding good wedding vendors to work with.
I have a live band playing at my wedding, but I don't know if they can play my first dance song, can I use a recording or see if they can perform my first dance song?
You can ask them, even if it is not listed on their song list. A lot of times bands can learn a song. This can open up an opportunity to change lyrics if desired or to turn the song into a duet with a male and female vocalist as if the two of you are singing the song to each other.
Feel free to ask if they can send you a recording once they have learned it. Since you have decided to take lessons and have a routine choreographed to the song, you want to make sure the tempo of the song matches the actual recording that you have been practicing to. If they don't send a recording, you can just talk with the band leader about how important it is for them to use the original tempo. The drummer could use a metronome if needed. Have faith in your band if they play a lot. 
Our first dance song is long, what kind of options do I have with a live band to shorten it?
You have a few different options. You can ask us (your dance instructors) to shorten the song for you, if you are planning on going with a recorded version, we can edit the song to your exact liking. Your other option is talk with your instructors and find out what sections you can eliminate, then speak with the band and let them know the exact times that you will not be using and ask them to send you a version of the song preview. Bands can edit the song to and adjust the ending of the song. A song that fades out on the recording will have a nice strong finish from the band for you to dip to.
Should I have my DJ shorten my song if I want it to be cut?
Yes, you can ask your DJ to shorten the song, however since you are learning to dance to your song it is best to ask us to shorten it for you. The DJ may miss certain cues that you have been practicing to and it is best to leave it up to the professionals to assist you in editing your song or shortening it.
Can I have my song slowed down or sped up in tempo?
If you have a live band performing the song you can ask them to slow down the tempo for you as they are playing it, we do not suggest that you alter an actual recording more than 2-5% in either direction as this changes the vocals and may not sound right. As suggested before, make sure the band sends you a preview of the tempo they will performing the song to before your wedding day and bring it to your dance lesson!
If I am doing a medley of songs can I have my band perform them or is it better to use a recording of the songs edited together?
This is a very special request of a band to learn multiple songs and perfect the transitions between the songs. Changing styles and rhythms in a split second takes some extra practice. If you feel the band is up for it, go for it. If not, take it easy and just ask the band to play the edited recorded mix through their sound system. Nail your first dance and enjoy your live band the rest of the evening!
Videographer and Photographer
Should I hire a videographer and photographer for my wedding?
The answer is short and sweet. Absolutely! You are going to want to make sure you get each moment captured of your special day.
Which should I go with if I can only have one?
Absolutely! That is why you want to hire professional dance choreographers and instructors. We know exactly what moves to show you that will fit even the most fitted dress. Nothing is impossible and the end goal is to show off you and your fiancé and your dress to your guests.
How can I make sure my videographer captures my dance in its entirety?
During your dance lessons, make sure to take videos of the routine so you can sit down with the videographer and allow them to see the different angles and positions you will be in especially if you are doing any kind of lift. If they are not aware of the routine, they may not catch the lift in its entirety the day of. Also, this allows them to position more than one videographer around the floor to make sure they can catch all the sides you will be facing and dancing.
It's up to you to let your videographer know that your dance is special to you!
Should I have the videographer capture the whole dance or just put segments of the dance together for my wedding video?
Ask your videographer if you can do both. See if they can make sure to capture the whole thing and send it to you separately from the highlights video you may want to have to share on your social media and with friends. Remember, you put in a lot of hard work and practice into your dance and learning it and you want to be able to have that to look back on and enjoy it.
How do I make sure my photographer captures my twirls and dips?
When you are at your lessons with your dance instructor or choreographer, make sure you ask the instructor to take a photo of your dip or a short video of the moves you are doing going into your spin or dip. Send it over to the photographer and let them know approximately when it will be happening in the dance (i.e. the beginning, middle of the song or at the end). You can even send over a video of the dance to the photographer so they can preview the routine and be prepared the day of to know where to set up to capture each shot and not miss anything!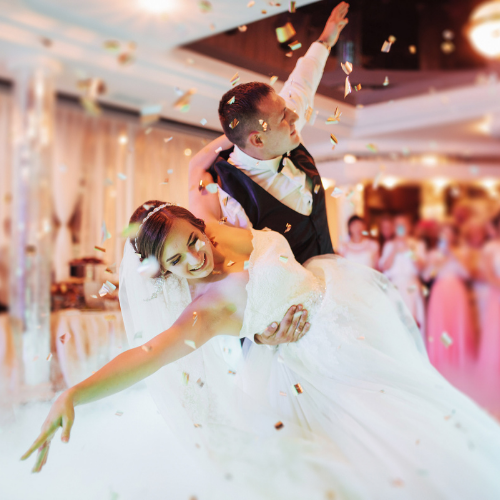 Private lessons in the Greater Houston area including River Oaks, West University, Memorial, Heights, Montrose, Midtown, Bellaire, Galleria, and surrounding suburbs.
Lessons available at one of our partner studios (located near 59 and Chimney Rock, or I-10 and Kirkwood), in your home, or at your wedding venue. All areas of Houston and surrounding suburbs served. We are happy to travel outside of our regular service areas (additional charges will apply).
Performances and other event services quoted upon request.
Preferred payment methods are Zelle, Venmo, and CashApp. Cash, credit cards, Paypal and personal checks are also accepted.