MORE INFORMATION
frequently asked questionS
When should we start?
The best time to start depends on whether or not you will practice what you learn. If you'll practice, then start as soon as you like. That way, you will have time to get more comfortable with your new moves. With lots of practice, there's a good chance you'll always remember what you learn. If you don't think you'll practice, then wait until you're pretty close to the wedding to get started. Plan to leave a week or two between your last lesson and the week of your wedding. A little time is good so you don't stress about your dance not being ready and you'll have time for an extra lesson if desired. For example, if you plan to take 5 lessons, start weekly lessons 6 to 8 weeks before the big day.
What should we wear?
Dress in whatever will make you feel best while you're dancing. Some couples get dressed up, some come straight from work, and some wear workout clothes. It can be fun to dance in clothes that make you feel attractive. We recommend women wear closed-toed shoes for their first lesson or two. For the last lesson or two, brides should bring comfortable shoes as well as closed toed heels with heights similar to the shoes they will wear at their wedding. That being said, any footwear and clothing will certainly do. Flip flops, sundresses, sneakers, T-shirts and gym shorts are all the rage in wedding dance training gear.
Can we reschedule?
Yes. Lessons may be cancelled upon request for any reason. Please save our number so you can give us notice conveniently should you need to cancel.
What do you typically teach?
We teach all styles of social and ballroom dance to couples with a variety of goals. If you want to look natural, learn to lead and follow, and just need a game plan for when it's your turn to dance, just let us know and we'll get you squared away. If you want to blow everyone away, we need time to teach you choreography. It can come across as spur-of-the-moment or completely coordinated–whichever you like or somewhere in the middle. We'll be right there to figure it out with you as we go along.
What is your cancellation policy?
Deposits and packages are non-refundable and do not expire. Any lesson cancelled within 24 hours of a scheduled appointment time will be subject to a $50 rescheduling fee. "No shows" or cancellations within one hour of appointment times will count as a full, completed lesson. If applicable, trip fees (for distances 10+ miles outside Houston) must be paid in advance and are non-refundable.
Please note you are hiring a profesional choreographer to work with you privately one a one-on-one basis, tailoring your dance and lesson plans to you specifically. We are not going through a syllabus or giving you a spot in a group class. We are scheduling our days and weeks to create your dance and rehearse it with you. We are also reserving time at your preferred location and blocking out time to book it, travel to it, and/or prepare that space for you. We appreciate your commitment to commisioning us as artists and all the support you give us via your time, talent, and treasure!
What else do you teach?
We combine multiple songs and styles,  cut music, choreograph Bollywood and other dances inspired by films and music videos, choreograph Renaissance court dances and large wedding parties, and incorporate fun elements such as hip hop, break-dancing and props.
We are delighted to have colleagues in the dance field who collaborate with us when a client has a special request that is outside our range of expertise.
We do all these things and are still up for new challenges. Let us know what you're thinking!
How do we register?
Simply call us or email us your preferred days/times. We will coordinate with you to schedule your first appointment. You may also get your phone consultation scheduled via our online booking system.
Are gift certificates available?
Yes. We can email you a card to print for your gift or mail you one. Just give us a call or drop us an email. It only takes a few minutes to set up.
Can we get a choreographed dance?
Yes. We can choreograph the dance of your dreams. Of course, it takes two to tango–and that doesn't count the teacher. Be sure you make time to practice!
Our wedding is 5 days away (or less). Can you help us?
Sure, there's still time! We feel for you and will do what we can to help you. Just call us now! 713-526-1049.
We had a bad experience at another studio. How will you treat us differently?
We'll listen and customize our program to fit your needs. We've been told by clients that come to us from other studios that they were pleased with us and our ability to teach everything they wanted to learn very efficiently.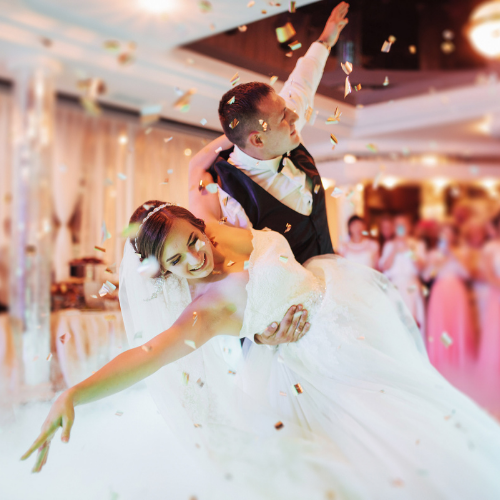 Private lessons in the Greater Houston area including River Oaks, West University, Memorial, Heights, Montrose, Midtown, Bellaire, Galleria, and surrounding suburbs.
Lessons available at one of our partner studios (located near 59 and Chimney Rock, or I-10 and Kirkwood), in your home, or at your wedding venue. All areas of Houston and surrounding suburbs served. We are happy to travel outside of our regular service areas (additional charges will apply).
Performances and other event services quoted upon request.
Preferred payment methods are Zelle, Venmo, and CashApp. Cash, credit cards, Paypal and personal checks are also accepted.